5 Reasons Why Confetti Is The Secret Ingredient To Make Your Events Happier
08/18/23
Ready to add a super festive atmosphere to your next celebration? By using a special effect like confetti, it will make your event more memorable! Not just the tiny, glittering small pieces of confetti but aerodynamically designed biodegradable, flame proof confetti which you can shoot out of a confetti cannon that will enchant your guests. As famously said, "Go Big or Go Home!" With these ideas in mind—and more to come—here are 5 reasons why confetti can be the most exciting part of your next event!
1. Visual Delight
Imagine a sudden burst of color as the guest of honor walks in. Or envision vibrant, metallic confetti showering your audience adding to the excitement of a big announcement? Confetti not only enhances the festive feeling of your event but also provides an unforgettable WOW Effect for attendees. In fact, confetti can be used to supplement the venue's decor by using rectangular shaped, triangular shaped or die cut shapes of custom-colored confetti fluttering across the venue during a grand entrance or big announcement. Confetti can seamlessly blend in with all kinds of decorations.
2. Symbol of Celebration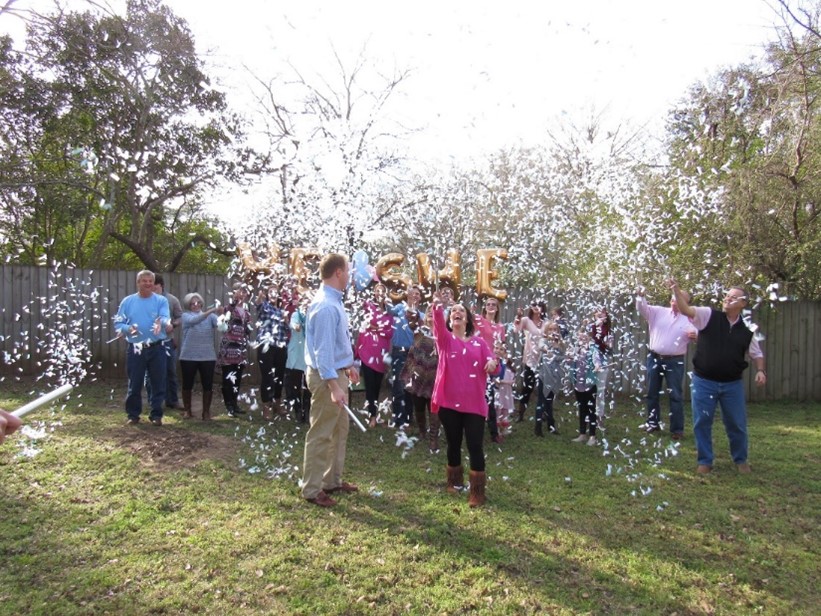 Confetti is a celebratory symbol of joy! Whatever the celebration confetti adds FUN to the event! Whether it's shot out of a Co2 handheld confetti cannon or a hand flick cannon everyone loves to be showered with confetti!For instance, envisioning a gender reveal celebration is incomplete without confetti. When proud parents launch pink or blue confetti or streamers (or both for fraternal twins), tears of joy flow when they see the colors of confetti announcing the sex of their baby.
Weddings are the perfect opportunity to include confetti for the most ecstatic feeling. As the happy newlyweds exit the ceremony, enter the reception hall, or have their first dance, the magic the confetti adds to the celebration is unbelievable. Plus the photographs showering the bride and groom with confetti offers amazing memories for years to come.
There are all types of confetti to use at events. Die cut tissue or metallic shapes, triangular white Corkscrews mixed with white tissue confetti, or custom-colored confetti to match the events décor are all spectacular confetti special effects.
Showering guests using a continuous flow blower offers smiles on everyone's faces as hundreds of shimmery products fill the dance floor making them a great choice for any celebration.
3. Interactive Experience
Confetti and streamers are not just for parties, weddings, and graduations. These exciting products are often incorporated into concerts, light shows, dance clubs, and rallies too. Confetti has a way of getting the audience all excited about the performance. The visual effect captivates and adds an exciting, electric atmosphere that gets any audience pumped. Better yet, confetti launches are much safer than pyrotechnics for the spectators and the performers or speakers.
Starting with the onstage effects, confetti cannons, like the Continuous Flow Confetti Gerb Launcher with two 50-pound Co2 tanks, yield a two-minute continuous burst of confetti that spectators will never forget. Smaller venues or places with a lower ceiling would require 1- 20-pound Co2 tanks, but the 40-second launch would still captivate the audience.

To get the audience involved with the special effects, you can distribute Flutter FETTI® Confetti Sticks, which are colorful, fun, and easy to use. For an extra surprise, you might include a "pop drop," where balloons drop from the ceiling and pop to release confetti which is inside the balloons. Watch as the confetti flutters, flies and floats everywhere in the venue.
4. Photogenic Moments
Photos or videos where there's confetti, streamers, and balloons always are more exciting when they capture the special effect in the air. This visual appeal just can't be outmatched. And for more exciting, Instagram-able moments, you can help your attendees get the most out of their confetti experience as they dance the night away under the confetti.

If your guests are using handheld canons to assist in making the confetti effect over the honoree, be sure to have the waiters distribute the confetti cannons on trays to all the guests. Then have the DJ explain to the crowd how to use the cannons and when to use them so you'll get the most spectacular effect plus achieve more synchronized pictures. While Co2 confetti cannons may come to mind when you think about making a lasting impression, don't underestimate the surprise and delight guests will experience after being encouraged to make the special effect, by flicking their confetti wands over the honorees of the event.

Long after your event, your guests will still rave about the grandeur of the confetti launch.

Additionally, you might mention standing at a distance from using Co2 cannons (in the case of a concert, for instance) to get the best panoramic shot. To play it safe, you can also set your camera settings for action shots or leave the "Live" feature on to capture the attendees' expressions and the movement of the confetti. And of course, don't forget to ask them to share their photographic memories on social media.
5. Lasting Impressions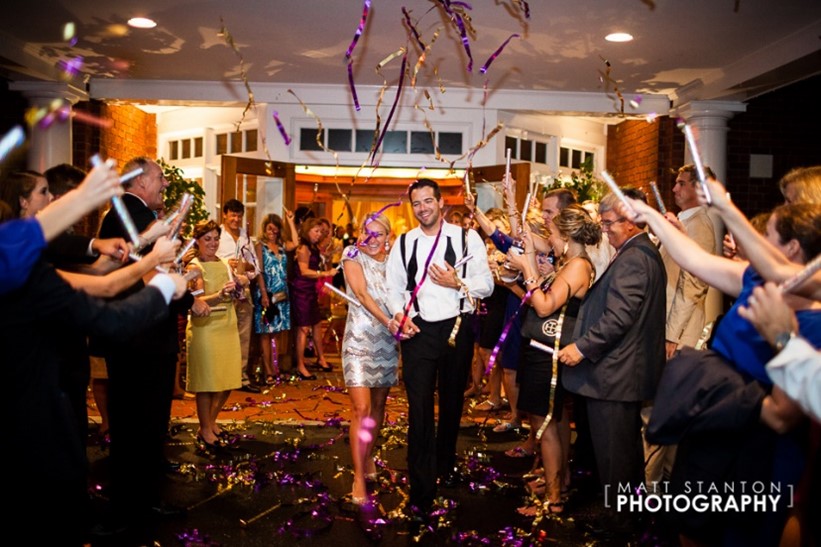 Confetti can top off the finale of a remarkable show at a club or concert hall. With so many attendees enjoying the surprise launch and sharing their memories online, your event will gain more exposure than if you had skipped the special effects.

As you can see, confetti definitely is the secret ingredient that adds pizazz to any event. With many opportunities to get great photos, you can easily display the highlights of your gathering or show them on your social media pages, which would add to the lasting memories that attendees would comment on. The visual effects of a confetti launch engages the audience further to make for a wonderful event they'll never forget – especially if they can participate in making the FUN by using hand-held launchers filled with confetti or streamers.

No matter the happy occasion, confetti makes it a great time for all. For a recommendation on using confetti or streamers at your next event, contact our team of experts.